2022 OEV 6.75' ALUMA Tray
Starting @$12,100 USD / $14,762 CAD
Bolts to factory mount locations with urethane isolators designed to load the pick up chassis in the same locations as the factory intended, while providing isolation to allow for chassis movement. No U bolts, 2x4's, plumber strap kind of mounting here.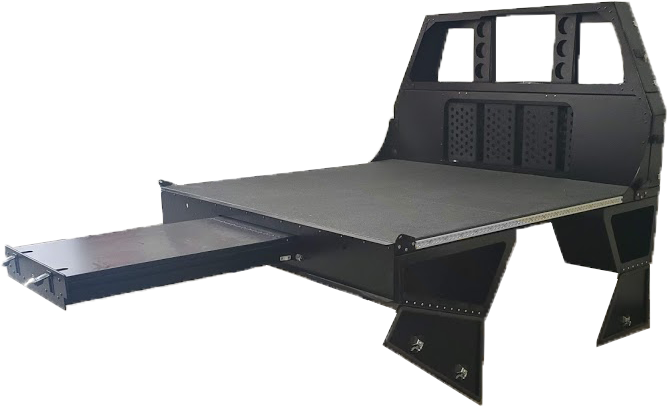 Rear drawer is designed with sealed roller bearings and heavy duty guide channels to take what comes naturally, mud, dust, snow, and ice without affect. Rear roller guides can also be pressure washed after harsh use and require no maintenance, try that with a set of ball bearing slides! The rear drawer also features a hinged lid to keep the big chunks out or a spot for the cook top!
Designed for 6.75′ truck bed replacement
High mounted DEF & fuel fillers for ease of filling.
All OEV decks are media blasted and powder coated. 
Deck surface is 2 component polyurethane sprayed directly on for maximum scratch resistance, helps keep things in place too.
Lower cabinets are 5052 aluminum with HD "D" cell seals and Southco adjustable locking latches, tapered for maximum departure angle+
Rear light boxes are equipped with 2 tail lights per side with integral back up lights, and 2 clearance lights. All wiring is easily accessible.
Headache rack is laser cut 5052 aluminum, designed with internal storage for optional OEV steps, or other long goods, secured with locking Southco latches. 2 levels of storage maximize space consumed by the headache rack.
Deck is fully formed laser cut with .160" 5052 aluminum sheeting to maximize strength with very good dent resistance while keeping weight down
Crossmembers are laser cut 2"x2"x.188" 6061 aluminum extrusions.
Sills are laser cut  5" 6061 aluminum C channel extrusions.
Transferable to another chassis by purchasing the proper fit kit.
top mounted side Boxes for 6.75'Trays
 We make 2 different X- side boxes, 1 for CAMP-X and 1 for others (you know who you are)